Sentier is born from the passion for those objects that are the core of our Italian tradition and culture. Sentier shoes are handmade by skilled craftsmen with great patience, love and precision.
Real "Made in Italy" creations, unique products that go beyond current fashions: Sentier has the power to evoke emotions, memories and sensations that only things simple and "sincere" manage to transmit over time and generations....
- MADE TO ORDER -
"For who loves to follow less traveled paths" Authentic and "real", with not compromises. Still handcrafted  as in the old workshops in Italy, using only the best genuine leather. Made and customized one by one, with love, patience and passion, they belong to our traditions and to all of us.
PEDULA COLLECTION
Customize the right boot with your initials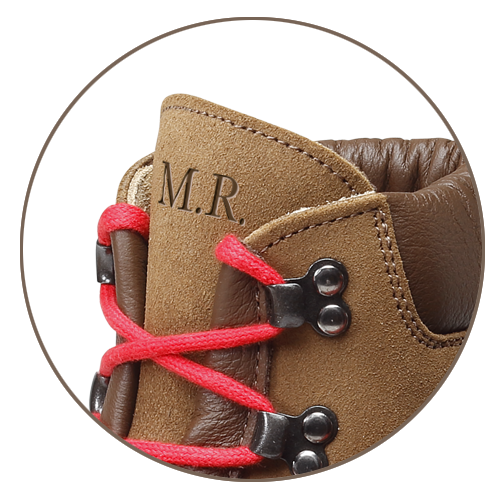 Cotton laces available in several colors to personalize your boots and make it "unique"
Born from the traditions of north-east part of Italy, they were handmade by the women in the houses recycling old clothes and stitching the used bycicle tires part as a sole. Now as it was then, they are still made by our local artisans with selected high quality materials. Totallly sewn by hands without using any glue to ensure a good transpiration. The recycled rubber sole, handstitched with wax thread,replicate identically the old bycicle tire.
FRIULIANA COLLECTION